We did all the things right. Steve served a mission in Bolivia. We dated for 10 months before we got married and sealed in the Salt Lake City Temple. We had been married six short months when I found the pornography on the computer. The pornography itself wasn't shocking, it was the type of pornography that threw me for a loop. It was all gay porn. Why would my husband be looking at gay porn unless he was gay? The answer was obvious to me but when I confronted Steve about it, he was still in denial.

A year later when Steve was in counseling for the pornography his counselor leveled with him. The pornography was an issue, but the real issue was that Steve was gay. It was at this point Steve came to terms with the fact he was gay. We talked about what this meant for us and at that point in time, we saw no reason to end our marriage. We were happy, content and had a healthy thriving marriage. We loved doing things together, we were best friends, we had a great sex life and we brought a beautiful baby girl in the world. But there was a side of Steve and went unfulfilled and wore on our relationship.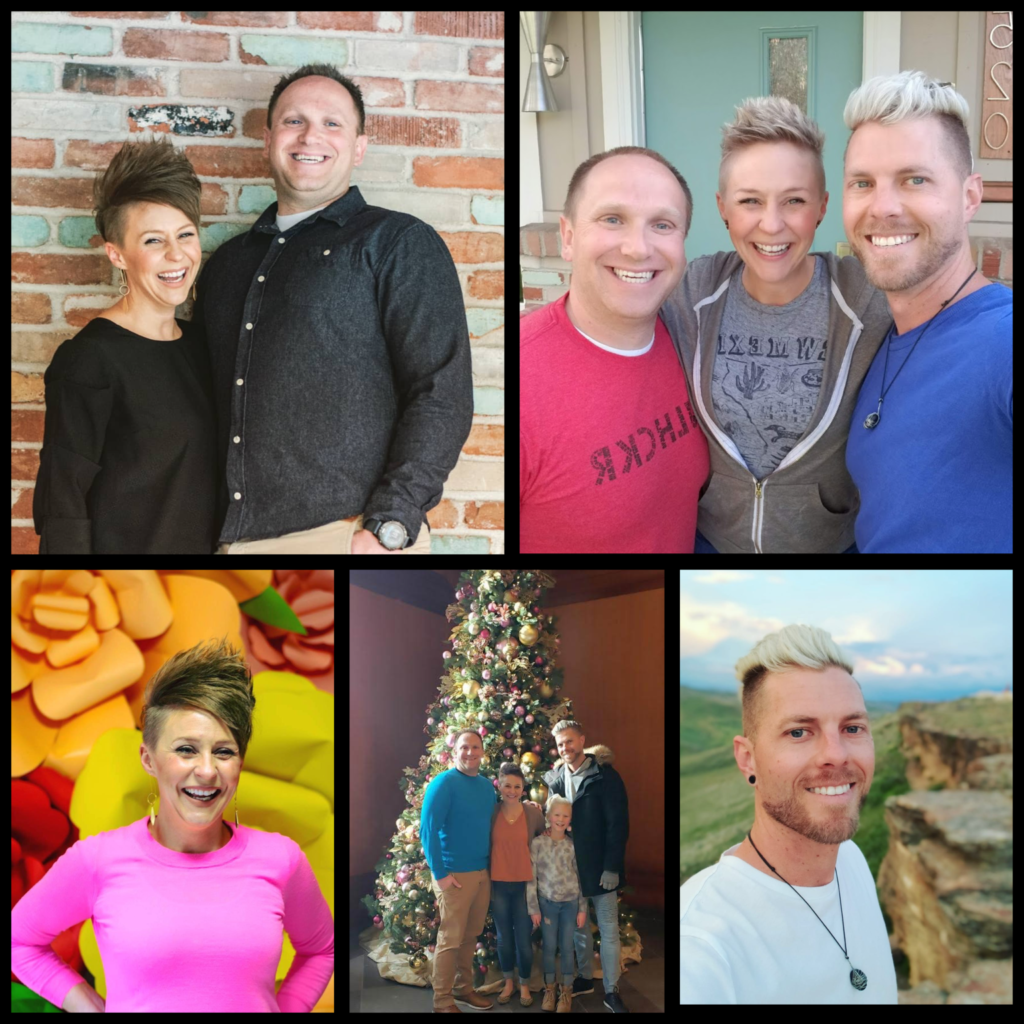 We attended support groups for several years. They were helpful for both of us. We learned a lot about ourselves. We learned who we were, who we wanted to be and what we were capable of. I think what really worked about our marriage is that we gave each other space to feel all the things and figure out who we were, all in a safe space. We talked about Steve's sexuality on a regular basis, almost daily for the last couple years of our marriage. I began to realize that I was strong. I had developed healthy habits of coping and addressing Steve's struggles and I was able to share these with others. This gave us more purpose in going through all of this.
Steve ended up having an affair with a man, something I had know was a real possibility for a long time. It hurt but because we communicated so well, I knew how much it hurt Steve as well. I knew he didn't have the affair because he loved me any less but because he was torn between two lives. One where he was an active, faithful member of the church, married to a woman and the one that longed to be with a man and live what was his truth.
We stayed together after the affair. We struggled to make sense of it all. It was an emotional, devastating time in our marriage. Any attraction Steve once had for me was gone and it was crushing. We ultimately decided it was best for both of us to get a divorce, even though the thought of losing each other was crushing.
We found a new way of viewing our life together and shifted how we viewed divorce as well. This was not a failure but an opportunity to love and support each other in a new way. It was important for us to continue to be best of friends, for ourselves and for our daughter.
We want her to know that her parents love her and that we love each other. I am still active in the LDS church and while Steve is not, we are very supportive and respectful of the other's life choices. We are trying to teach our daughter to be open to other paths in life. There is no one clear path to happiness, it looks different for all of us and we can love and support each other no matter what path we choose.
I am remarried now.  My husband (Matt) has two kids of his own.  He and Steve are good friends.  They love and support each other as well.  They will go out and do things together and take our girls on daddy daughter dates.

Matt is now my best friend, confidant and my rock but Steve is next in line after him.  I don't know what I would do without these two men in my life. Their examples of love, strength, faith, happiness and joy push me to be a better person every day.  There is too much negativity in this world to not love those around us.  There is always good to be found and gratitude to be had, we have to be willing to look for it.
If you want to hear more of Jessica, Matt and Steve's story, you can check out their podcast "Husband In Law" on any podcast platform.
We are always looking for new stories. Please share yours.
Want to read another story like this one?
CLICK HERE for more!