William McCleery, later known as Eva McCleery, is the earliest known transgender person in the state of Utah. Born in Liverpool, England on October 11, 1850, William and his parents converted as members of the Church of Jesus Christ of Latter-day Saints and soon after immigrated to Utah in 1875. The family bought a small tract of land outside of present day South Jordan, Utah. William was one of 18 children born to the McCleery family.
Skilled in the arts of leather, his father occupied as an Irish boot maker in England. Following in his footsteps, William studied and became a gifted shoemaker as well. As a child, William told a reporter that for 10 years he worked at the "cobbler's bench in England dressed as a girl." "I had a lot of fun," he said, "and many a young spark made love to me."
In 1878 and living in Utah, William married Ida McClure and they had six children. Skilled as a shoe maker and educator, the McCleerys relocated to Ogden, Utah where William taught shoemaking at the Deaf and Blind Institute. In 1902, the McCleery family returned to Salt Lake City and William opened the Acme Shoe Shop in the Utah National Bank Building on Salt Lake City's Main Street. It was during the opening of his Acme Shoe Shop that William started again dressing as a woman. Word spread through the close knit Mormon community that William was dressing in "feminine garments" and news reports began to surface of his activity.
One of those news reports read:
"William McCleery's family have known for years of his peculiar disease, if such it may be termed. They have not regarded his temporary lapses from masculine supremacy seriously until his story became public.

The fact is, as we learned yesterday, McCleery is a man, the father of a family but always obsessed by a longing to be a woman. To gratify as possible this unusual desire, he wears women's clothes even to the extent of calling on his son and grandchildren dressed in feminine garments.

His son Lawrence and his brother Nephi of Murray [Utah] declare his desires to emulate femininity comes over the shoemaker frequently and that at such times he becomes decidedly effeminate and for the moment forgets entirely he is a man … His son objects seriously to his father being termed a woman. He has known that his parent masqueraded at various times as a woman, but was not aware of the cause until yesterday when he was enlightened by his uncle and his father."
The relentless written and gossiped stories proved too much to bear and the result of which led to his wife Ida filing for a divorce in 1910.
In an effort to salvage his dignity and tide the flurry of interested gossipers and news reports, William contacted a reporter for the Salt Lake Tribune.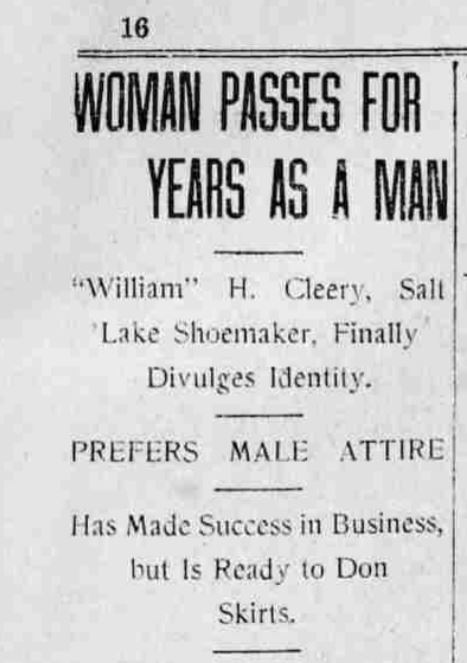 On October 28, 1911, William shared a distorted version his story to a reporter for the Salt Lake Tribune. The article's headline read: "WOMAN PASSES FOR YEARS AS A MAN" and "William" H. Cleery [sic], Salt Lake Shoemaker, Finally Divulges Identity." McCleery then divulged a fantastic and false version of a story that detailed himself as a biologically born woman passing herself off as a man.
"Hundred of citizens of Salt Lake who have for many years patronized "William" H. Cleery [sic], shoemaker in the basement of 50 South Main Street will be greatly surprised to learn that the quiet unassuming little cobbler is a woman. After a disguise maintained for a score of years with a very few in the secret, the woman divulged the secret yesterday."
"Yes, I am a woman," admitted "Eva" to the Tribune reporter. "For 20 years I have worn male attire and for eleven years of that time, I have conducted shoemaking shops on Main Street of this city. Few if any guessed the secret of my identity until on an Ashton Avenue street car the other night I saw that several passengers had in some manner discovered the fact that I am a woman. I then resolved to resume female attire when again went on the streets."
In the article, William called herself Eva McCleery "as the woman was known before she doffed the feminine name with the garments of the sex."
Eva detailed an elaborate story why as a woman she dressed as a man. "About 20 years ago [1891], in a spirit of curiosity I put on men's clothing. I found that I could work so much better at the bench unhampered by my skirts, that I continued the practice. It soon became second nature to me and I discarded female attire altogether."
The reporter referred to McCleery as "Mrs. McCleery" in the article, unsuspecting that "Mrs. McCleery" was a divorced father of five children. Mrs. McCleery said, to explain the "manly" habit that folks had observed, "I learned to smoke," she said with a shudder, recalling her early struggles to overcome a woman's repugnance to the weed. "I practiced hoarsening my voice and tried to cultivate a taste for manly pursuits and amusements."
Eva said she conducted her boot-shop in the basement of the Utah National Bank building. She recounted the story of being dressed in the guise of a man, and under that guise rented the building and set up business for herself. "I continued at this location for six years said Mrs. McCleery" and built up a good business. "I do good work," she added proudly. "I am not afraid to put my work in competition with the best men-shoemakers in the country."
The reporter also referred to Mrs. McCleery as a "good looking 'man'". "Mrs. McCleery makes rather an attractive appearance in men's clothing. Her gray hair, worn rather long, is brushed back from a face touched lightly by the passage of time. Her slight and slender figure is perfectly erect and neatly clad in a business suit, and she creates the impression of being what she really is — a business "man" of standing in the community."
"But all levity is abandoned and the little woman is quite serious when she discussed her future. 'I prefer wearing male attire but if there is any objection from anyone I will never again don trousers,' she says. 'Dr. Mary Walker and other women are permitted to wear men's clothing and I don't see why anybody should object if I should but I am ready to give up that form of dress if anyone objects." And with just a little quiver of the lip and a suspicion of a tear in her eyes, the elderly woman concluded, 'But I beg permission to dress as I please while at work at my bench.'"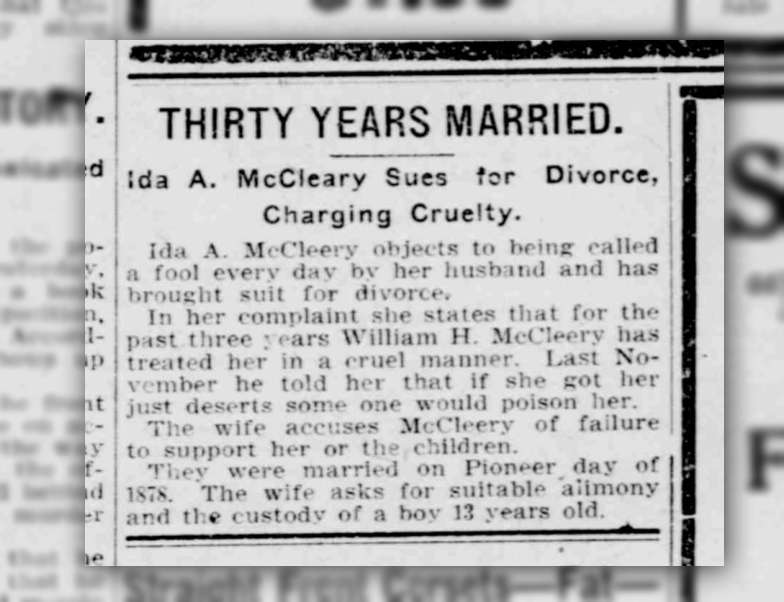 McCleery hoped the article would quell the flood of rumors running freely among Salt Lake's Mormon population. It was entirely possible to settle the rumors as McCleery's ex-wife had moved away from Utah, to Portland, Oregon and had taken with her their teenage son.
The 1920 United States Census enumerated McCleery as Eva McCleery and listed her sex as female. She stated she was a 69-year-old widow born in England. Her occupation was listed as a shoemaker in a shop she owned.
According to the family, "William McCleery was a twin, the other, a female child, being stillborn. This is the secret of his longing to be a woman. The influences exercised upon the male infant by the stillbirth of his twin sister were such that McCleery cannot resist the desire to emulate womankind. When these impulses sweep over him, male reasoning seeks flight and to all intents and purposes, he becomes the twin sister. Stranger still, he involuntarily assumes feminine mannerisms and his voice becomes soft and low."
Eventually, persistent reporters tracked down William's history, including his ex wife and six children. A reporter with the Salt Lake Herald Reporter demanded an interview with Eva in which she consented. When asked why McCleery informed newspapers previously that he was a woman, McCleery said that "he was a woman". "McCleery said that so many people had seen him when he masqueraded and had recognized him when they came to his shop that he thought the easiest way to prevent his affliction becoming known was to give out that he is of the weaker sex."
Eva McCleery told the Herald Reporter, "No I cannot resist the feeling to be a woman in the least. Why only last night I donned my female dress and took a ride in the street cars. Almost every Sunday, when I see handsomely dressed women going to church, the desire to be one of them comes over me and I work myself into a fever if I do not give way and change to woman's finery, Arrayed in a complete outfit, I am calmed as soon as the spell works itself out, and I change again to male dress."
McCleery's relatives refused to acknowledge Eva's identity and in all public statements regarding Eva, refers to Eva as a male. They name a "dual personality" as the reason for McCleery's gender confusion. Many in the family say they regret the notoriety it is bringing to them. They repudiate the suggestion that he is deranged. "McCleery," they said, "appears sane enough and all his replies are lucid and convincing."
On March 22, 1932, at the age of 81, Eva McCleery passed away at the Salt Lake County Infirmary. McCleery never remarried but remained in Salt Lake City living the remainder of her life as Eva.
The official cause of Eva's death was listed as a "hypertrophied prostate." Refusing to acknowledge the identity Eva chose, her children buried Eva in the South Jordan Utah cemetery under a grave marker inscribed with the words, "Wm. McCleery."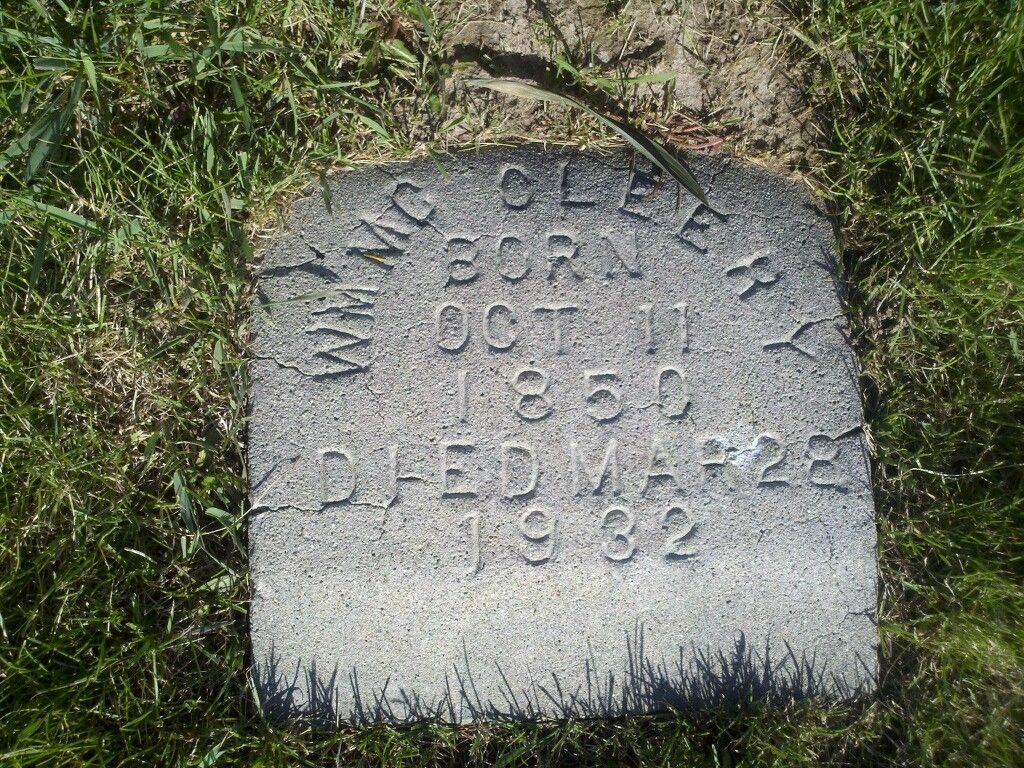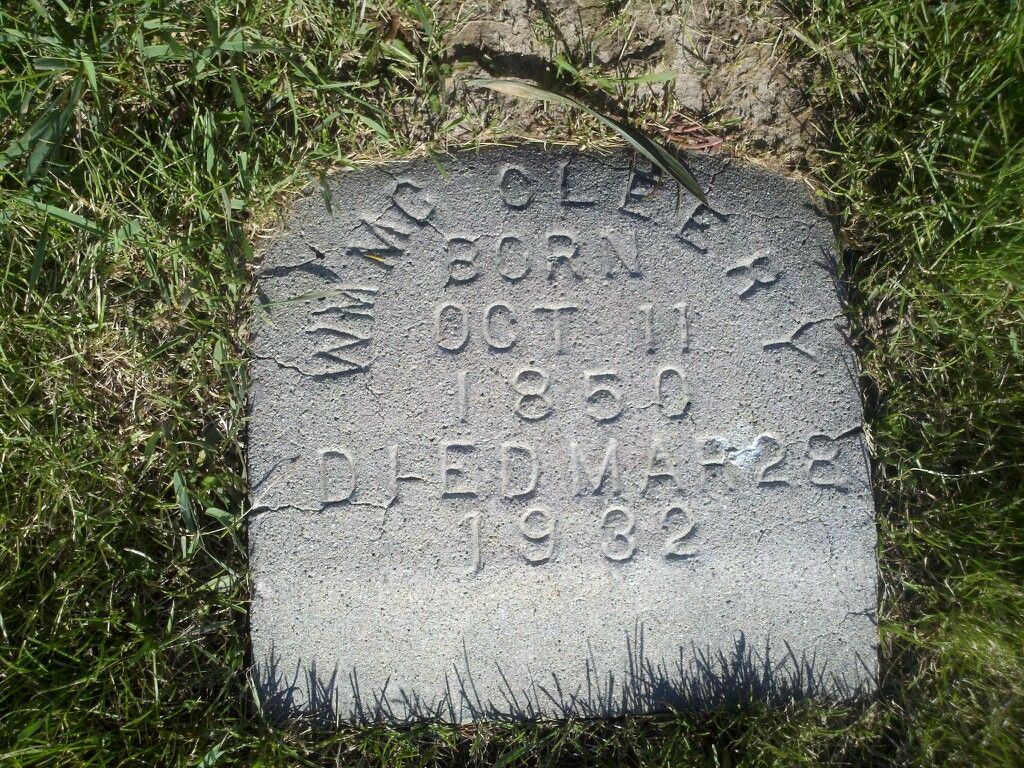 Want to read more stories like this? CLICK HERE
---
https://www.findagrave.com/memorial/28555323/william-b_-mccleery
Utahpridecenter.org/queer-utah-ancestors

https://qsaltlake.com/news/2018/07/18/a-walk-in-the-shoes-of-eva-and-william-mccleery/