By Kyle Ashworth | Opinion

I recently attended a question and answer event headlined by Greg Prince, author of the just released book, Gay Rights and the Mormon Church. Greg's book delves into the murky water of the Church of Jesus Christ of Latter-day Saints' historical treatment of the LGBTQ people, theological and legal studies, and the divide between sexuality and reality.
At this event, a member of the audience asked Greg why he believed the Church of Jesus Christ of Latter-day Saints perceived the LGBTQ community as such a threat. Essentially, this questioner was asking what it was about the LGBTQ people that threatened the church so much that as a religious organization they almost single-handedly funded California's Proposition 8 campaign, waged a divisive divide against generations of church members, and successfully excommunicate and remove its own people as apostate.
The least noxious answer given by Greg Prince to the questioner was Greg's assumption that to the Church, homosexuality was a threat to their belief that the purpose of life is to multiply and replenish the earth—and in effect, homosexuality and gender reassignment alters that great Plan for eternal exaltation.
Greg immediately acknowledged the largest problem with that assumption: the reality that straight members of the church are not able to 'multiply and replenish' and as a result, they use adoption, surrogacy, IVF and other means to establish posterity. Ironically, these are the same methods used by non-straight couples to rear families—and in the coming years science is on the brink of establishing even more biological options for reproduction. So contrary to LDS narrative, if you are gay, trans or straight, you're equally capable of participating in methods to multiply and replenish the earth. Strike one.
While I appreciate Greg's response to this questioner, I wonder if there is another deeper reason why the church has double-triple-and even quadrupled down against homosexuality? An earnest study of theology can easily dispel the five biblical scriptures used to advocate against homosexuality (see Bryce Cook's Essay on Homosexuality at LatterGayStories.org/articles to begin to understand the theological history of sexuality).
I am becoming increasingly convinced that the fight against LGBTQ people isn't about the religious mandates of procreation but about something much more devious: control amid chaos.
Do you think it is possible that the Church of Jesus Christ of Latter-day Saints fights against homosexuality in an effort to buoy their self perceived authority? I know this is deep territory and members of the Church have been trained to discount any conversation that is critical of their religion, but let's discuss it—we must have an honest discussion. I wonder if the Church realizes that they were so wrong about sexuality that they continue to push the current narrative as the only option to NOT face the task of apologizing for their wrongness.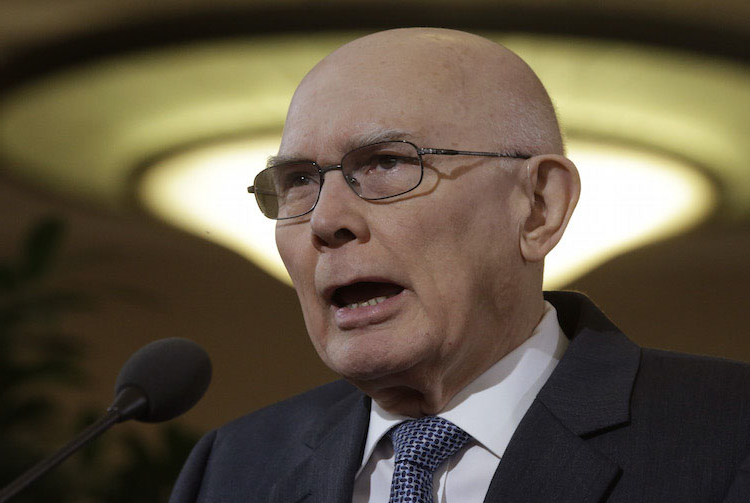 The Church has an awful and difficult history of understanding and teaching topics of homosexuality and gender identity. As early as 1897 George Q. Cannon declared by apostolic witness (from the General Conference pulpit) that if the Saints were faithful, God would destroy (kill) the homosexuals from Zion—clearly his rhetoric was not supported by the Gospel of Jesus Christ. He said it in Conference, he bore it under the auspice of apostolic authority. Frankly, he lied.
BYU President Ernest Wilkinson spoke at a BYU Devotional informing the students that homosexuals were not welcome at BYU and if "you will be honest enough to let us know [that you are homosexual] we will refund your tuition." He continued, "We do not want others at this campus to be contaminated by your presence."
From the Church of Jesus Christ of Latter-day Saints we have been taught that homosexuality was created, it is a disease, a malady, precursor to pedophilia, the results of masturbation, akin to murder, apostate, unnatural, not born, forbidden, disgusting, unworthy, and more. Members of the Church have endured more than 100 years of myth and inaccuracy. You've been lied to.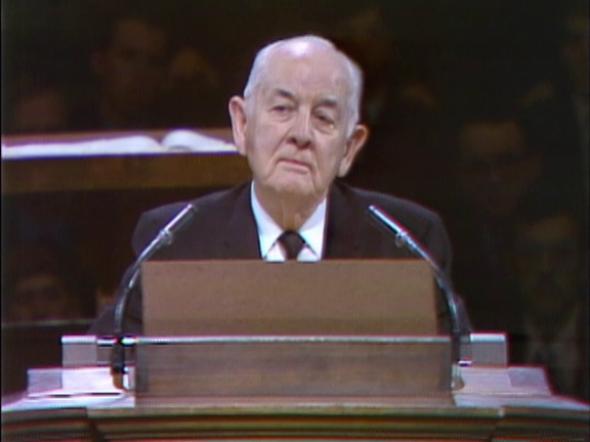 Spencer W. Kimball, Mark E. Petersen, N. Eldon Tanner, Boyd K. Packer, Ezra Taft Benson, Dallin Oaks, Gordon Hinckley, Richard G. Scott, James Faust, Russell Nelson and many others are all guilty of promulgating false information about this topic (see LatterGayStories.org/statements for a detailed list of historical quotes regarding homosexuality).
As we navigate the spoken history of these leaders we're not talking about semantics, quibbling, and missteps in information; we are talking about blatant inaccuracies regarding the topics of homosexuality and gender identity. The authors of this misinformation are not Mormonism's riff-raff either, they are the leaders of the Church, perceived receivers of revelation, and often they are the literal Prophets of the Church.
In an effort to maintain the dignity of their church, some members of the Church of Jesus Christ of Latter-day Saints (and their apologists) create excuses to justify the inaccuracies of their leaders. You are likely familiar with one of the widely used justifications: these prophets and apostles were acting as men when they spoke those things, not as prophets. Let's not stoop that low anymore. The leaders of the church either speak the will of God, or they don't. We have to realize that it is not possible to have it both ways. I am becoming more and more convinced that to teach truth, the Church should consider installing flashy neon signs above the Conference Center pulpit and throughout chapels worldwide that indicate (in real time) when church leaders are speaking as men—promulgating false doctrines, or when they actually speak as prophets. This could clear up so much confusion in the Church. Somehow the signs could be connected to real-time fact checking software, comparing the message being delivered with the statements of previous doctrines. If a discrepancy should arise, members would know that the statements were the opinion of man. Such signs would give us the ability to capture truth and dispose of falsehoods—immediately, not 40 years later.
It is safe to assume, no signs will ever be constructed. Hypothetically, it seems like a step in the right direction.
Considering the original question proposed to Greg Prince: is the Church of Jesus Christ of Latter-day Saints' fight against homosexuality really about procreation and the Proclamation to the Family or is it about maintaining control over people? Are Church leaders doubling down on this topic in an effort to distract its members from the Church's untruths? Are apostles using marginalized people as pawns to appear to make their authority look more correct? Are the same apostles even aware that they have been wrong in the dissemination of their teachings? Are Church leaders doubling down to save their legacy in an effort to prevent the Saints from doubting the legitimacy of their claims?
The Church must realize the dilemma they have on their hands. More and more of their members are coming out and defying the traditional rhetoric against homosexuality and gender identity. Families of LGBTQ people see the LGBTQ community as beautiful, loving, and worthy sons and daughters of God—not the apostate, evil, and unhappy absconders that their church leaders declared them to be. That is a major problem for the Church—it calls into question the legitimacy of their revelation and messaging. This leads me to wonder if the Church is intentionally creating a divide between straight and non-straight people in an effort to salvage their self imposed authority and control. Or, has the Church of Jesus Christ of Latter-day Saints become so far distant from the gospel of Christ that they feel immune to repentance, progression, and apology?
As the Church of Jesus Christ of Latter-day Saints continues to hemorrhage membership at an alarming rate and as the LGBTQ LDS community experiences a skyrocketing rate of suicide and suicidal ideation, it is not too late for someone at 50 North Temple to grab the helm and steer the good ship Zion in the correct direction.
All in favor, please manifest.
Contrary, if there be any, by the same sign.