We are followers of Jesus Christ, members of The Church of Jesus Christ of Latter-Day Saints, have been married for almost 25 years, and we have 3 birth kids and one bonus son.
I (Heather) grew up in a family who was active in the LDS church. My parents taught us about Jesus, to love God, keep the commandments, and be kind. Unfortunately, as a rebellious teenager I questioned EVERYTHING. At around 17 I decided church wasn't for me, and left church activity.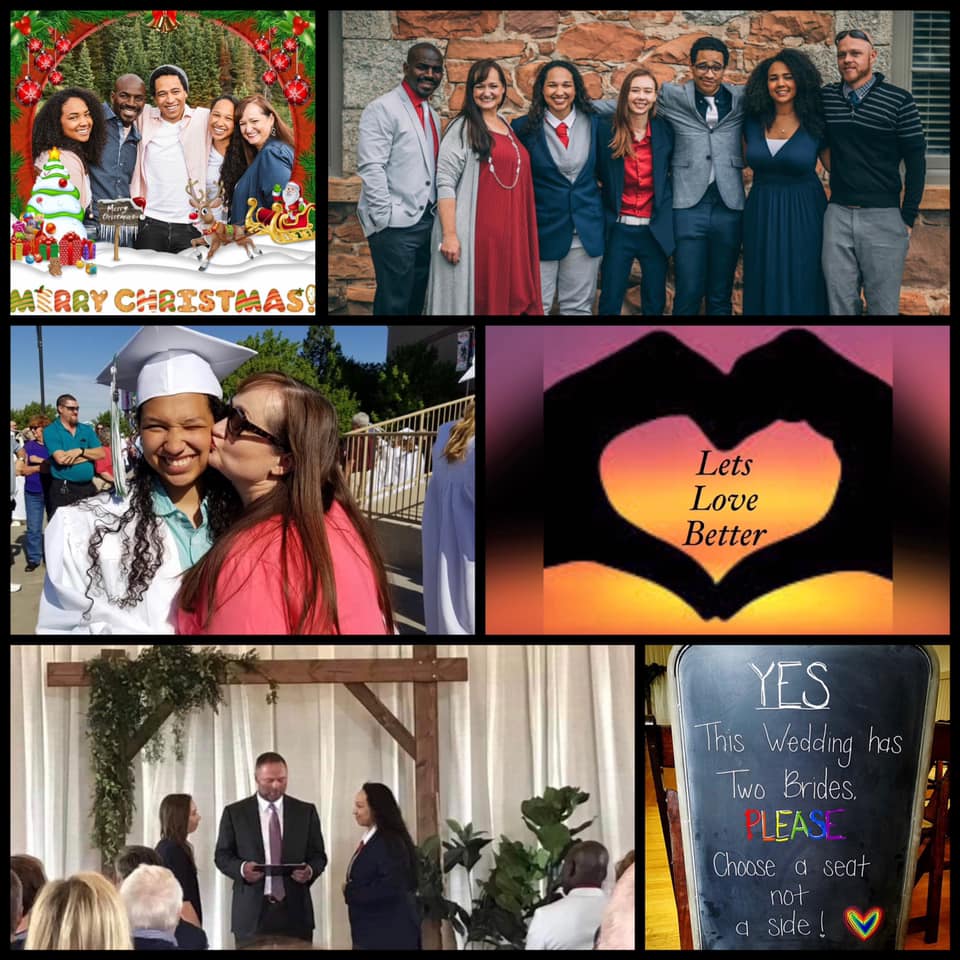 When I was 19, I met my husband Eddie. He is African American, and a true southern gentleman, who was raised Southern Baptist/Pentecostal. Eddie took the missionary discussions while we were dating, but a "friend" gave him some quotes by early church leaders about black people that were unsettling to say the least. It was not time yet for Eddie to get baptized, or for me to be active in the church.
One wedding and two kids later, our little family was transferred to upstate New York, where about two dozen sister missionaries patiently helped me learn to trust God again, "investigating" the LDS church, and also teaching Eddie as much as he would let them. Although I still couldn't accept what felt like racism in the church's past, I had wonderful spiritual experiences which strengthened the little testimony that I had. I was able to gain a testimony that Joseph was indeed called to be a prophet, in the grove of trees that I visited regularly, but that Jesus Christ was the only perfect man to walk the earth, and the bedrock of my testimony of His gospel needed to be Him.
I returned to full activity in the church and through a series of what I call mini-miracles; Eddie was baptized about 18 months later. We continued moving forward, and a year later we received our endowment in the Toronto Temple and then were sealed as a family in the Salt Lake temple. We have built our life around the church. We have served in pretty much all the callings, including Eddie's time in the Presidency of the Genesis Group. We are trying to be good followers of Christ.
While Eddie was serving in the Genesis Presidency, I was able to further deepen and build my testimony of not perfect, but Godly men, called to be apostles and prophets. We were given the rare chance of reading excerpts from President Kimball's Journals, and were blessed to learn more about the events leading up to the revelation that lifted the priesthood and temple restriction. President Kimball had prayed for so long for those blessings to be extended, and helped his fellow apostles along the way, until they were ALL able to ask in sincere prayer for that revelation, and then receive it. They were not perfect in their understanding, but they were faithful, and their hearts had been made ready.
About 10 years ago, in front of a bunch of friends, our oldest, Eddie Jr., who was going through their teenage edgy stage at the time, turned to me and asked "What would you do if I told you I was gay?" (My mouth went dry. I felt like it was a pop quiz) I answered that I would tell EJ that absolutely nothing could change my love for my kids. All of the kids seemed ok with my answer and went back to their video games.
On the other hand, I couldn't stop thinking about EJ's question. What if one of our kids was gay? Did I know enough about how to love and support them? I knew I didn't. I started to read everything I could find from the church on the subject. Unfortunately there wasn't much out there that was positive. As I studied, I read a lot of statements from church leaders that were really uncomfortable for my heart. I found quotes full of condemnation for both gay people and their families if they supported them. These statements weighed heavily on my heart, and felt "yucky", just as the statements about black people that I'd read from past leaders years earlier. Luckily I was able to apply what I had learned earlier, that our Prophets and Apostles are good and faithful men, communing with God and doing their best. But they are not perfected yet. I can sustain them, learn from them, and pray for them, without agreeing with every word they have ever uttered.
I longed for something that could give me peace on this subject. I was able to find non-church (studying from good books, see what I did there?) resources that helped me learn about the goodness and gifts of the LGBTQIA community. I am grateful for all of the things that I learned, even though I continued to wish (and still wish) that I could hear hopeful and empowering things from the leaders of the church on the subject.
Then, 3 years ago, our youngest daughter, Sariah, came out to me and told me she was bisexual. I still probably didn't handle it as well as I could have, but I told her that I loved her and that nothing she ever did could change that. I won't lie; I struggled with letting go of what I had planned for her life to look like. My dreams of her temple marriage and activity in the gospel all seemed to go up in smoke. I got a little angry. I felt like we had done everything "right", everything was supposed to be roses and (non-gay) rainbows!
Luckily, I quickly learned that I had been prepared to understand who she is, a Gay daughter of God, and I knew that this is not a choice. She came out to Eddie a few days later, and he was like "OK, get a good night sleep". I said "SERIOUSLY? THAT IS YOUR WHOLE REACTION???" He told me the same thing I've heard him tell everyone who asks about it. "She's my daughter and I'm going to love and support her no matter what." And he absolutely has.
About 2 years into this spiritual trek, a friend invited me to attend the temple with her family when her daughter received her endowment. Unfortunately there was an accident on I15 and I didn't make it to the temple on time for the session. But missing that session was an absolute answer to my prayers. My only real choice was to sit in the celestial room and wait for them to come through.
I spent almost two hours sitting alone in the celestial room, and I prayed my guts out. I shared my worries about how my daughter would be treated as a black, gay, LDS woman (seriously, could she be more of a minority?). I prayed and asked if His will was for her to be alone for the next 80 years. I cried and asked Heavenly Father if our daughter had a place in His Kingdom. I begged for His peace and help in understanding her. Had he sent our daughter, and millions of his other children to the earth to fail simply because of who they are? I begged Him to help me understand.
Then… He gave me peace. I felt the words "BE AT PEACE. My plan of happiness is for ALL of my children." I tried to ask "but what about…" and the words came again "PEACE, my plan of happiness is for ALL of my children." No huge answers of where she would be or how this will all work out. But I was filled with His peace, the kind you can't get from anywhere else. Since that day, I (mostly) haven't worried about how this will work out for Sariah and the rest of our LGBTQ+ brothers and sisters. I trust in Heavenly Father and in His plan I hold tightly to the promise that "He will yet reveal many great and important things pertaining to the Kingdom of God" (Article of Faith 9)
In the meantime, I am doing what I can to stay close to Him. I recently came across a scripture that has added to my peace. In Matthew 22:40, when, after answering the Pharisees that the most important commandment was to "Love God, and love thy neighbor" He taught that "On these two commandments hang ALL the law and the prophets". It hit me like a ton of bricks that those might be the only questions I am asked at the final judgment. Did I love God? Did I truly love my fellow humans? Because if I didn't do those two things, on which all the law hangs, then the other questions won't matter. So, we have decided to love openly. We LOVE our LGBTQ kids. Whether they are the kids that I gave birth to, or anyone else that will let us love them.
Sariah recently got married. She and her wife Heather have been together for 3 years. They were high school sweethearts. They have only ever been in love with each other. They are a beautiful example of a committed relationship. Before their wedding ceremony started, we gathered as two LDS families who adore these daughters that Heavenly Father blessed us with, and we started the day with a family prayer. The peace was there. The spirit was there. It was beautiful.
I do still have questions that bother me. Sariah and Heather were both raised in the Church of Jesus Christ of Latter Day Saints. It is their spiritual home. But where can they go from here? Will they be shunned if they attempt to attend a married student ward when they return to Logan in the fall? Will they be welcomed? Do they need to find another church in order to have a spiritual base, and try to continue to hold on to their relationship with the Savior?
My hope is that maybe there is further light and knowledge coming on this subject. I know that just as in President Kimball's time, it would take all of the apostles and prophets being open and willing to ask Heavenly Father if there were policy changes that could be made in regards to His LGBTQ children.
I also hope the church can denounce past false teachings, even if it is as quietly as when it was stated in the Race and the Priesthood essay "Today, the Church disavows the theories advanced in the past…" If you look hard on the mormonandgay.churchofjesuschrist.org site you can find that "fixing" LGBTQIA is no longer an expected outcome of prayer of priesthood blessings. Unfortunately, most church members don't know this! An older sister in our ward approached my husband a while ago and told him that she knew that if he used his priesthood correctly he could "fix" our daughter. Bless her heart. I realized that some people still think that she needs to be "fixed". But I believe we have a loving Heavenly Father who can do all things. I feel an assurance that He would have fixed her, if she was broken. But the truth I've learned is that she's not broken, she is beloved.
She is a daughter of God with infinite worth.
Want to read another story like this one?
CLICK HERE for more!
This In My Own Words story is a contribution from Let's Love Better, a Facebook group dedicated to helping people learn to better share love, while fostering an atmosphere of understanding. When we know better, we do better.