I am Nick Baker— I have lived a typical, "wonderful" and "blessed" Utah life. I am gay. Growing up in Bountiful, Utah I checked the boxes: priesthood advancement, callings, and a mission. Friends, status, and education. In a culture where immense pressure is placed in numerous aspects of one's life, I have personally felt the need to excel at all cost. Yes, I am beyond grateful and indebted for the difficulties and celebrations this ultimate need for success, but I would be remiss if I did not articulate a few poignant feelings. It is my intent to enlighten those who desire to bring cultural change in whatever realm we find ourselves in.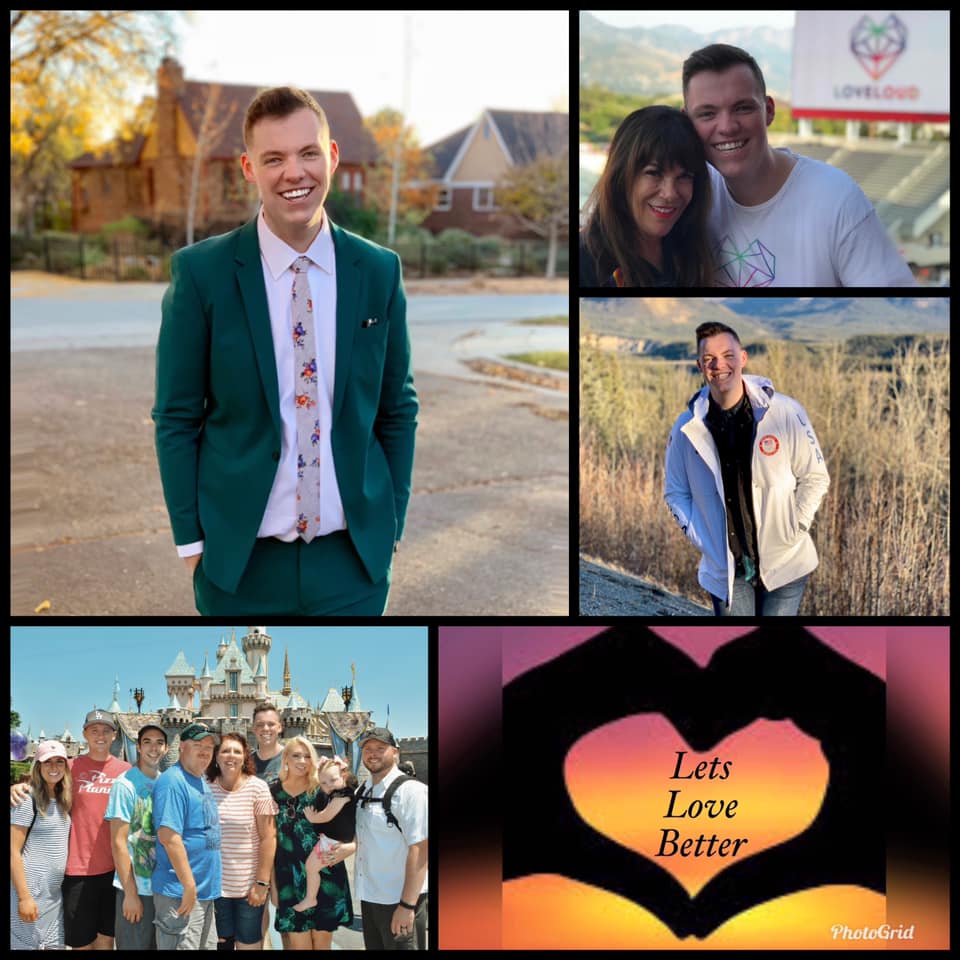 If I am great at any one element in life, it is holding things in. Holding in the anger of why I am the way I am, the fear that I might be gay, sadness and absolute woe that I am gay and now have entered the extraterrestrial deadlock brought upon those who identify as LGBT and LDS. These compartmentalized feelings would produce a lack of confidence in my abilities, and above all, my value before my friends, family, and creator. Feelings that would trigger profound thoughts and actions that yes, would be held back or dangerously expressed. Our LGBTQ brothers and sisters are worthy, deserving, and of need for a safe place. This safe place is not out of our families and communities, are we creating a space where dialogue, love and understanding can freely be shared?
Upon contemplating my notion of being "different" and "peculiar", I can draw back on thoughts that being gay simply wasn't a real "thing". This fallacious thought fabricates the dissonance I would carry for many years. I recall numerous experiences throughout my teenage years where I longed to be like my friends. How I yearned for the desire to go on dates with girls, live the quintessential life of a Latter-Day-Saint and to have the aspirations of a big family; drive a Suburban through our suburban neighborhood essentially. These sentiments quickly were wrapped up and expelled along with any thoughts of being afflicted with same-gender attraction. When I would take the time to understand and ultimately scrutinize this stalemate, I found that I could only but blame myself for the woes and inconclusive state. I was to conform my views, feelings and aspirations. Although I had my dreams for the future I understood the that there was no easy or present solution to the problem I was failing to address. I acknowledged the dissonance and deadlock but pressed forward without addressing it.
Fast forward to graduation, I through my time been a fervent prayer, gained an unfathomable love for the hymns and truly had a desire to serve. Though I never felt that I truly knew the Gospel and Doctrine to a point preaching and educating I did check one box: love. I knew that I could love another and give of myself freely. Not that I had the pre-determined notion that I could serve the gay away… but in way I knew things would work out as according to the covenant path. So, I submitted my papers and received my call to my dream mission (Benin Cotonou). The times ahead would include immense pain both physical and emotional but of undeniable worth. I am beyond grateful for the experiences I was had to go through. I will forever cherish the opportunities I had to serve and those who I was afforded the opportunity to serve as they served me without trepidation. When it was my time to return home, I felt my sexuality had been returned to was we declare as normal. I could clearly see myself in front of an alter making an eternal commitment I would later realize I could never subject myself or someone I could yes, love but not reciprocate all the beauties of the gospel they so longed for.
Only until my move to school did I start to understand who Nick Baker was. What he was worth, what he wanted in life and how he was going to achieve such. This time, as it does for many, has been one of infinite growth and realization. We would again see this standoff occur again when I was charged to marry and continue the path already set for me. Here is where I sure followed the path… but with a minor deviation. Sure, I was going out on dates, they weren't with girls but nevertheless I was dating. With my strong Tinder game and strong devotion to a church I had always known and had always fallen back to; I was torn. In time I would come to further understand the strife of many other LGBTQ+ in my similar situation. This struggle to this day is a slow but steady war between loving as I believe to be divinely created and the goals and dreams I have that associate with my sexuality versus how a group of individuals chose to view me. I have come to recognize that yes, I am different and yes, that is most definitely ok.
Those who view the world with a different set of eyes than yourself are plainly that, different. Not bad, not good— simply different. In coming to understand the unique sorrows and triumphs of my LGBTQ+ brothers and sisters I have deduced that many have felt "different", "peculiar", and alone from a young age. Hypothesizing that this may also be my case I've come to further recognize that this notion, my divine nature as a gay son of my creator, has been concealed by aggregate feelings of inadequacy, the simple evolution and development all life goes through and ultimately an elusive cognitive dissonance. For my LGBTQ+ brothers and sisters, and our allies, an extraterrestrial deadlock is created when we attempt make peace with our sexuality and our place in another's view of eternal glory and happiness. This impasse has personally caused great confusion as I have differentiated my core values and goals from the standards and straight, narrow path I simply do not fit in. Wrestling between divine nature and deceitful, conclusive strategy that pushes divisive policies contrary to the beautiful truths found in the Gospel is a cross no one should have to bear.
The acceptance of those who are different, our LGBTQ+ brother and sisters, has drawn the comparison of other "evils" that our fallen state has succumb. There are legitimate, actual calamities and catastrophes out there: terrorism, gun-violence, political enmity, drug-addiction, pollution and suicide. I can go on but nevertheless there is a distinct, unmistakable divergence in these evils and our LGBTQ+ brothers and sisters— we are not malevolent, immoral or reprobate. These divinely created individuals are giving the opportunity to love more purely, just as we have doctrinally been taught. We are no different in our capabilities to love. I would revel in the moment when my love is quantifiably tested and then compared to my hetero-normative counterparts. Whether by my Creator, imperfect leaders, or colleague it is the same, I can and do love synonymously. Just as all LGBTQ+ brothers and sister do.
This love is at large and is to be given to all. As is the divine love given by whatever creator or being we chose to turn to. My creator did not create me flawed. This includes my divine design to succeed, love, and serve. He would not, and did not, conceive me designed to fail from day one. My divine nature is considered and used by some as a contrivance to convolute the big picture, a picture that has not been fully painted. In the end, if they be right that yes, I was designed to fail from the beginning that I gladly will accept my punishment in the final days because know I will be with my tribe. My creator did design me to defy restrictions placed by imperfect beings. It is our doctrinally constituted prerogative above all to love. To love wholly without intent for gain but desire to understand.
There is hope and how badly I wish I could remind those who we have already lost that they are not alone. This is our charge to not only bear another's burden but to touch their cross allowing us to further comprehend the anguish and possible eternal sorrow felt. When we as ministers to one another understand that our LGBTQ+ brothers and sisters have a notion that they were created to fail, not worthy of our love, or have a bleak road ahead of them; then put candidly, why hope for a brighter day when all you amount to is a life of cloudy days and an infinite crescent moon. Any language besides that of love and acceptance is nothing more than cacophony and harrowing dissonance.
Understand my sincere desire for us each to love and listen so that we may understand our LGBTQ+ brothers and sisters. Each of us has a path different and is made according to our specific needs, I hope that we will have the desire to help each other along the way and what a reward we will have now and later, until then I will continue to choose love. You are seen. You are loved. Your pain, sorrow, love and celebrations are recognized and shared.
Want to read another story like this one?
CLICK HERE for more!
This In My Own Words story is a contribution from Let's Love Better, a Facebook group dedicated to helping people learn to better share love, while fostering an atmosphere of understanding. When we know better, we do better.