My name is Kay and I am 50 years old. I live in Arizona. I am a wife, mother, and grandmother. I have adopted, guardianshiped, and fostered 27 children who are the most beautiful, amazing people and have 9 grandchildren. I am a world traveler and business owner. I hold 3 college degrees.
My Dad met my biological mother when I was four and my brother six. They married, when I was five. My dad adopted me and my brother and my family converted to the church when I was seven. We were very active members and our lives revolved around the church, its teachings, and it's members, faithfully.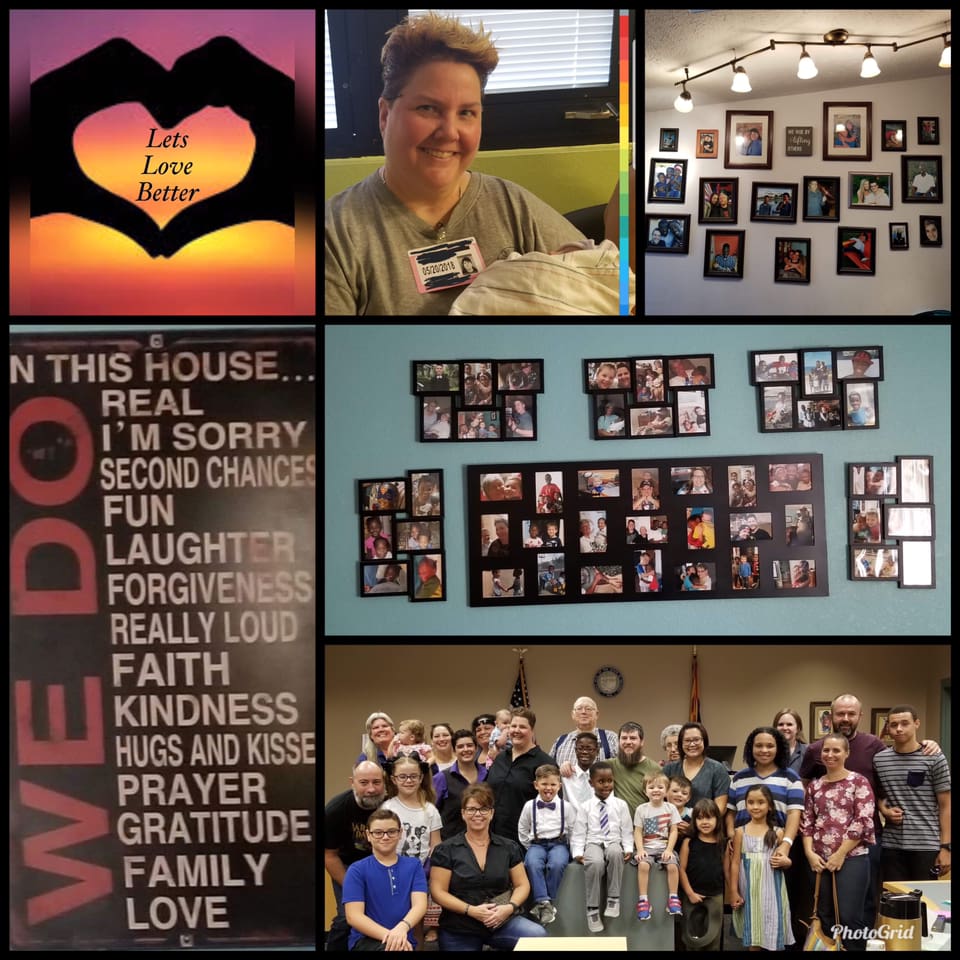 When I was 11, all my girl friends were taking interest in boys. I wasn't. Not wanting to appear different, I chose to pretend that I had a friend named Mark that I liked. Not understanding the whole boyfriend interest, I told my mom I wanted to be like Mark, dress like Mark. Play baseball like Mark. My mom finally asked my Aunt if she would ask her daughter, who was in my class, if she knew Mark. My mom confronted me and I nearly died at her hand. For my injuries, she did a little time in a State Mental Hospital but when she returned home, was more angry because she was released at RS President. It was my fault.
During the 10 months that she was gone I started what I will call my plaid and corduroy phase…lol. My mom hated it. When she came home I begged her to stop making me wear dresses or skirts and eventually she gave in to me, just wearing them on Sundays to church.
At 12, I didn't know what gay was, but I knew that I was different. Very, very, different. I liked girls, a lot. The more I rebelled against conforming to the delicate ballet practicing, piano playing, dress wearing, tea party playing, gender conforming girl, the more my mom hit me. I was expected to grow up, be a mindful proper young lady, go to seminary, finish high school, marry a nice returned missionary boy, and settle down and be a mom. The more she pushed the more I resisted.
When I was 13, my dad tried to stand up for me and my tomboy ways. My mom divorced him and was excommunicated due to additional physical violence against me. Again, it was my fault. In her anger, she put me out. Not out like I lived with a friend's parents down the street. Out like she put me on a Greyhound bus, four states away to AZ. Why AZ? She said, they have good weather.
I was on my own.
When I was 17, I searched and found my mom. I promised her I would be any way she wanted if she would just love me. I graduated from my 9th high school that same year. I married a friend at 19. My mom was so happy. I divorced him at 20. My mom was epiclly disappointed.
At 23, I married again. A good Christian boy who converted to the LDS church and gave me a temple marriage. My mom was so proud. I wanted to adopt children, so we did. Seven children joined our family. I made a career for myself and my husband stayed home with our children. We looked good on paper.
At 38, I knew I could not hide my light or life under a bushel anymore. I was incredibly unhappy and could live the lie no more. I believed I was failure in the eyes of Our Lord. I also knew that could not be an embarrassment to my family either. I knew that my family would not stand for me being gay. I felt I had no choice but to take my own life.
Thanks be to God, literally, I survived. The gun that was pressed so tightly against my head jammed when I pulled the trigger. I was hospitalized for several months but found the courage to come out. I could no longer live a lie. I felt incredibly alone. I returned home to my children. My husband said, if you go through with this, if you leave me, I will make our children hate you. He tried.
My Dad didn't speak to me, for 7 years. My mom was just embarrassed and no longer wanted me to come around. But, I was alive. In fact, I was now living. I knew God did not save me for me to continue living a lie. I divorced my husband and three years later I met and legally married my beautiful wife and we have parented and adopted 9 additional kids together.
My Heavenly Father never left me, not once. I feel like my church left me. I thought as LDS people we were supposed to love and it was God's job to judge. Not the case. Everyone disappeared, except my best friend, my sister. Outside of my children, she was the only one who stood by me. My sister and most of my children left the church. After all, according to the doctrine of the church I loved and served, the way I live my life, I am no better than those who commit crimes against children.
Nevermind that I loved and cared for others children. All told there are 27 children that God trusted with me to keep safe, love, teach, and raise in HIS love. They are good people. Some are divided by our teachings. One denied a mission call.
My children are raised in kindness and generosity. Probably just like all of your children. I don't understand why my love, my church, my shelter now teaches that it's ok to not include me. My children can't be baptized because it makes others uncomfortable.
I am different. But, not in the way other members might believe. I am 100% real. I hide nothing. I fear nothing. I live my life selflessly. I dream without limits. My faith sustains me. I love without conditions. I am a child of God.
Want to read another story like this one?
CLICK HERE for more!
This In My Own Words story is a contribution from Let's Love Better, a Facebook group dedicated to helping people learn to better share love, while fostering an atmosphere of understanding. When we know better, we do better.