One Saturday, at age 13, Emma came to me in the kitchen as I was doing dishes. She looked bewildered. She asked me to follow her outside, in the backyard alone. She handed me her journal and asked with shaking hands, to read an excerpt. I read her coming out to herself. I read with horror all her articulated feelings of disgust and self loathing; of her suicide ideation. All about her months of trying to pray the gayness away, but to no avail.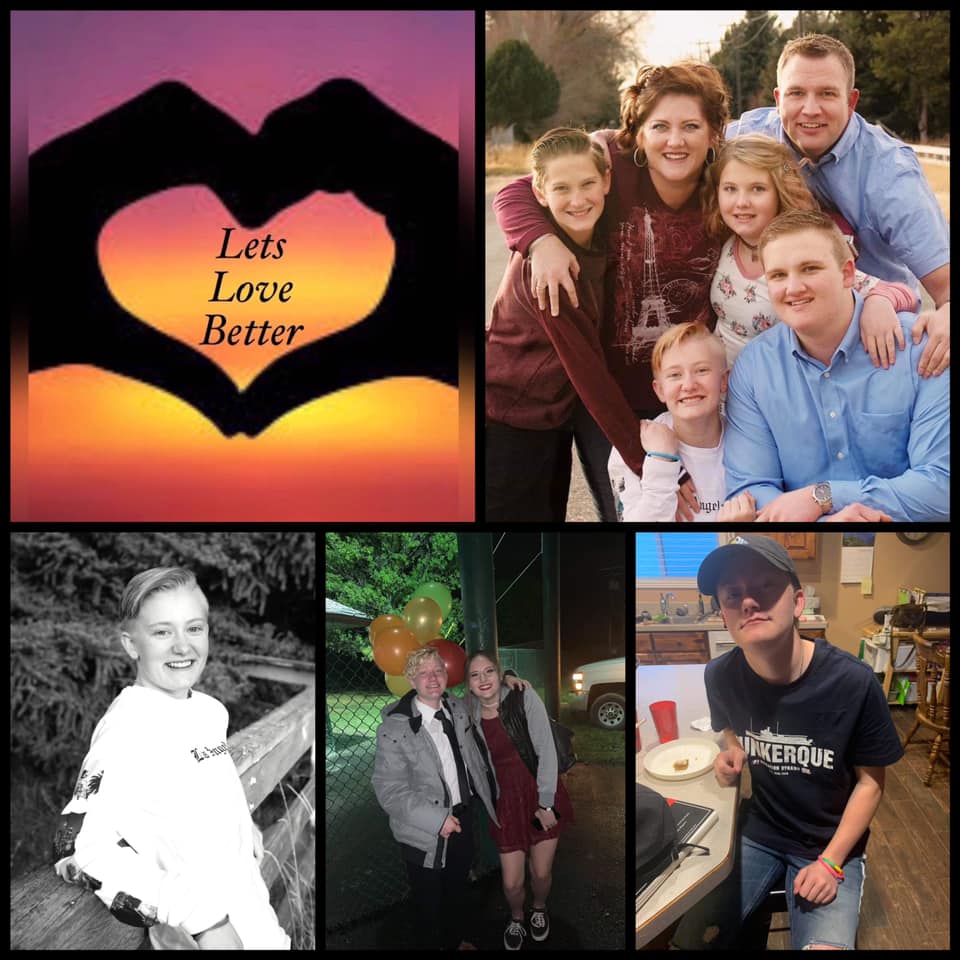 She sat with her head in her hands and I read thinking, "I DID NOT SEE THIS COMING. I AM AN AWFUL PARENT." After reading, I could not hold back the tears, but the Spirit prompted me to do two things: express my love for her having told me, and go share with Dad. We went up to find my hubby quietly folding laundry. He looked at us, closed the door and we all sat on our bed. Emma was in a fetal position crying and I showed Joseph the journal entry. He handled it beautifully. He lovingly told her how proud he was of her courage in coming to us with such a heavy burden. We hugged Emma. We cried together. He reassured her that she hadn't done anything wrong to 'deserve this.'
She slowly started coming out to family and friends; she lost a lot of friends; she gained some new ones. Bishop and YW leaders were amazing. Very loving and supportive. Meanwhile, the depression and anxiety became all consuming as we struggled through therapists and drug after drug after drug to find help. I sunk into a deep exhausting depression as well. I just wanted to keep this beautiful, wonderful child of mine alive! I felt helpless as I watched her cry and writhe literally in tormenting pain. We struggled to find support- so we started our own support group. It's still going! Slowly, but going. We meet monthly. We outgrew my living room, so that was a neat problem to have!
Fast forward a year or two later, about 18 months ago, Emma had the discovery that she was actually a boy in the wrong body. He chose the name Aiden and it has been the hardest challenge yet. We struggled to understand, let alone relate to this newfound concept! He was determined to start transitioning to this new identity, a foreign world to my husband and myself. New pronouns, new haircut, new clothes, new hygiene, and a new name. He was so sure of himself; he started wearing a suit and tie to church unabashedly!
It has been overwhelming and my grief was learning to process this loss of my daughter and accept the newness of this vibrant young man. We are working to do everything we can to support Aiden and help him thrive, while maintaining our devotion to our faith and covenants. Heavenly Father has not left us comfort less. I don't have answers, and although I beg with all energy of soul to know about God's plan for his LGBTQ children, I see His hand in my life guiding us one small step at a time. Sometimes one day at a time. Never much of the distant future path is ever shown for this miraculous soul I now call Aiden, but I find small answers illuminating our course one small step at a time.
I've been humbled as I watch Aiden pioneer his way through this conservative community with hope and determination. He amazes me. He changes the world in simple ways.
When our child came out as LGBT a few years ago, we were very hard pressed to find any kind of support group, (for all of us!) so we started our own. It is called Open Arms of Southeast Idaho. We soon outgrew our living room, and have since gathered in other friends' homes! We meet monthly.
I'd love more family and friends to join us if you're so inclined. We have a lot of great support and meaningful insight to help us move forward in our lives. We are so blessed by the group. All are welcome! ?️‍??
Want to read another story like this one?
CLICK HERE for more!
This In My Own Words story is a contribution from Let's Love Better, a Facebook group dedicated to helping people learn to better share love, while fostering an atmosphere of understanding. When we know better, we do better.