If today were 1946 (and you were a high profile Latter-day Saint), coming out and confessing your infidelity to the prophet of the Church of Jesus Christ of Latter-day Saints would secure you a vacation (and eventual residency) to the beautiful islands of Hawaii. An exile to paradise likely won't happen to you and I, but it did for Joseph Fielding Smith.
Joseph Fielding Smith, the great grandson of Hyrum Smith, was the Presiding Patriarch and a general authority of The Church of Jesus Christ of Latter-day Saints from 1942 until 1946. The office of Presiding Patriarch was one of the highest and most important offices of the church's priesthood. The role was equated by Joseph Smith with Biblical patriarchs from Adam to Abraham, Isaac, and Jacob, and it was expected that the office would descend through lineal succession from father to son. This precedent was set when Hyrum Smith, Joseph's brother, became the second Presiding Patriarch because he was the eldest surviving son of the first Presiding Patriarch, Joseph Smith, Sr. When the office was given to Hyrum, he was given "keys of the patriarchal priesthood over the kingdom of God on earth, even the Church of the Latter Day Saints."
Smith was born in Salt Lake City, Utah, the son of LDS Church apostle Hyrum M. Smith and Ida Elizabeth Bowman. He went to school at the University of Utah, where he majored in Theater. In 1929, he married Ruth Pingree and together they had seven children, Ruth, Ida, R.P. "Joe", Denis, Lynne, Hyrum, and Pauline.
At the time of his calling to the patriarchate, Smith was a member of the church's Mutual Improvement Association General Board, head of the Speech Department at the University of Utah (though he did not hold a Ph.D.), and was also president of the National Speech Association. His calling as patriarch filled a vacancy that had lasted just over ten years, and his selection for the office has been seen by some as a departure from the expected line of patriarchal succession from father to his eldest son in good standing with the church.
Historians suggest this move came during a time when some members of the church's First Presidency and Quorum of the Twelve Apostles were attempting to move away from the rule of primogeniture in selecting the presiding patriarch, giving church leaders the ability to pass over unsuitable candidates who would otherwise inherit the office somewhat automatically. This move would prove important, because Joseph Fielding Smith was hiding a key aspect of his life—he was secretly homosexual and was not upholding the faith's commands of moral chastity within his mixed orientation marriage.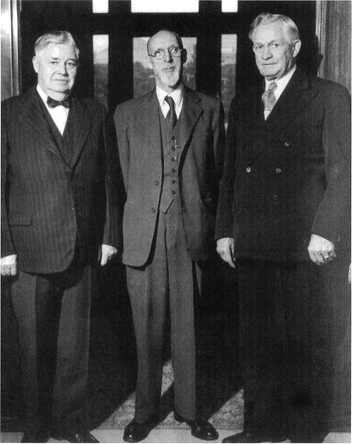 Smith's official given title was "Patriarch to the Church," in place of the previous style of "Patriarch over the Church" or "Presiding Patriarch," a change which was also accompanied by a reduction in the scope of the duties of the office; Smith was not permitted to ordain or formally supervise local stake patriarchs.

At the age of 43, Smith was ordained a high priest and Patriarch to the Church on October 8, 1942, by church president Heber J. Grant. He served only four years before it was reported by the church that he had requested to be released from his position as Patriarch of the Church—self resignation of a church calling is not only frowned upon in Mormonism, but highly suspicious.
Smith's letter of resignation to Church President George Albert Smith read:
Dear President Smith:

As you know I have been very ill for many months. While I am slowly gaining strength and hope soon again to be able to do some work, I do not know when, if at all, I shall be able to stand the full drain upon my energy incident to the office of Patriarch to the Church.

As you know the duties of the Patriarch entail heavy exhaustion. Since but one man holds that office, if he is measurable incapacitated, its work must in that degree suffer. I know, of course, that one neither resigns nor asks to be released from such a calling out of personal considerations, any more than one requests appointment or asks for office.

My chief desire is that the work of the Lord shall prosper. Bearing these things in mind, I am writing to say that if you desire me to carry on I shall do my best. If, however, in the circumstances, you should feel that the interests of the Church would be best served by releasing me at this time, I want you to feel at liberty to do that.

I am therefore writing this letter to let you know you have my full support for whatever you decide. I am grateful for the Lord's goodness to me and mine. Ever praying the Lord's choicest blessings upon you.

I am sincerely your brother,

Joseph F. Smith
His request to be released was granted by church president George Albert Smith on October 6, 1946, with the official Church statement simply announcing that Smith was released for reasons of "ill health."
The Official Statement read:
"After careful and prayerful consideration, and with deep regret and sympathy for his condition, the First Presidency with the expressed assent and approval of the Council of the Twelve, have decided, under all the circumstances, that Brother Joseph F. Smith shall be released from his duties as Patriarch to the Church."
Persistent and skilled interrogators relentlessly dug for answers as to why Smith, who seemed to be in excellent physical health would be released of his vaulted church calling.  Finally, in 1946, enough evidence had been accumulated to prove that the patriarch was involved in several homosexual affairs, including two in the 1920s while employed at the University of Utah (with a student named Norval Murray Service and a drama department colleague named Wallace A. "Wally" Goates), and one continued affair while serving as presiding patriarch in the 1940s (with 21-year-old U.S. Navy sailor Byram Dow Browning who was also a Latter-day Saint). Church president George Albert Smith later described the scandal as "a pitiable case" and "a sad happening" in his diary, describing himself as "heartsick" and as having a "restless night" in conjunction with the events and the necessity of releasing the patriarch because he was gay. 
It was abundantly clear that Joseph Fielding Smith did not resign his position as Patriarch to the Church because of "ill health", but because of the enormous damage that could befall the "good name of the Church" if it become publicly known that Smith was a gay General Authority who also was an admitted participant in extramarital homosexual affairs. Church Patriarchs are regarded as Mormonism's most worthy, spiritual and dedicated servants, using their calling and priesthood powers to call upon heaven as a prophet, seer and revelator.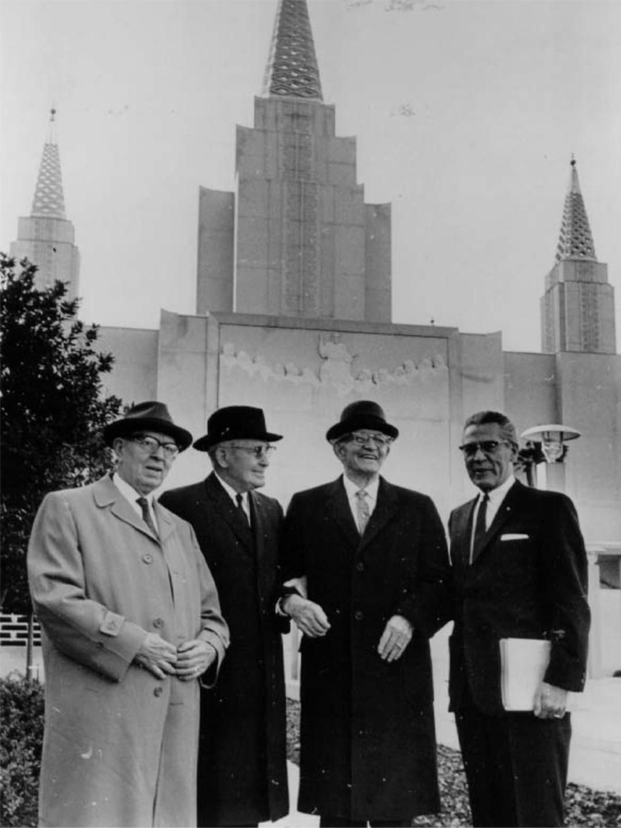 The Church worked tirelessly to prevent the general church membership from learning the core reason of Smith's release, and even prevented Smith from preforming Patriarchal blessings until the First Presidency could convene and discuss the issue. It was after his quick release that Smith and his family were exiled to Honolulu, Hawaii to calmly and quietly disappear outside of Salt Lake City's intriguing gaze. Once settled in Hawaii, Smith and his wife Ruth continued to raise their family and he resumed his academic career as a teacher of English and drama. No formal church disciplinary action was taken, and Smith was reportedly "treated with compassion." Some form of membership annotation or record of his homosexual activities must have been placed upon his church records because nearly a decade after his release as patriarch, Smith's stake president and bishop wrote to church president David O. McKay asking for any restrictions on Smith's membership to be lifted. In 1957, after it was established that he had forsaken his homosexual behavior, confessed to his wife, and sent a written confession to the First Presidency, Smith was called to serve as a member of his stake's high council.
Shortly after the First Presidency removed his membership restrictions, Smith's wife Ruth wrote a letter to church president David O. McKay expressing her gratitude for the church's help, stating, "I know, better than anyone else, the trial our family has been to you and to the authorities."
Joseph Fielding Smith died at the age of 65 on August 29, 1964. He was buried in the Salt Lake City Cemetery.
Want to read more stories like this? CLICK HERE
---
Family: Joseph Fielding Smith/Ruth Pingree. OurFamilyHistories.org

Bates, Irene M.; Smith, E. Gary (1996). Lost legacy: The Mormon office of presiding patriarch (1 ed.). Champaign, IL: University of Illinois Press. ISBN 0252021630.

Patriarch to the Church: Released from Duties", Improvement Era4 (November 1946) pp. 685, 708.

Salinas, Hugo. "Queer Mormons of the 19th Century". affirmation.org. Affirmation. Retrieved 23 February 2017.

O'Donovan, Connell; Quinn, D. Michael. "Chronology of Events on Patriarch Joseph Fielding Smith's Homosexuality". Affirmation.org. Affirmation. Archived from the original on 22 January 2010. Retrieved 23 February 2017.

"Book on LDS Patriarchal Blessings Published". signaturebooks.com. Signature Books Publishing. Archived from the original on 23 February 2017. Retrieved 23 February 2017.

Gibson, Doug. "Remember that Gay Mormon Patriarch?". realclearreligion.org. Real Clear Religion. Retrieved 23 February 2017.

Quinn, D. Michael (2001). Same-Sex Dynamics among Nineteenth-Century Americans: A Mormon Example. Urbana: University of Illinois Press. pp. 369–371. ISBN 978-0-252-06958-1.

Whitefield, Jim (21 May 2009). The Mormon Delusion: The Secret Truth Withheld from 13 Million Mormons (1 ed.). Lulu. pp. 261–262. ISBN 1409278859. Retrieved 23 February 2017.

Lore, Lambda (1 Sep 2011). "The birth of Mormon homophobia". Q Salt Lake Magazine. Retrieved 23 February2017.

Anderson, J. Seth (29 May 2017). LGBT Salt Lake: Images of Modern America. Arcadia Publishing. p. 16. ISBN 9781467125857.

James, Rhett S.; Mitton, George L. (1998), "A Response to D. Michael Quinn's Homosexual Distortion of Latter-day Saint History", FARMS Review of Books, 10 (1), pp. 141–263

O'Donovan, Connell. "Chronology of Events on Patriarch Joseph Fielding Smith's Homosexuality". connellodonovan.com.