My name is Robby Talbot and I'm fairly new to all this. I'm 25 years old. I've lived in Utah all my life, and I love it here.

I'm kinda a big Disney fan. I've been working for the Walt Disney Company for almost 6 years now. I've worked at our local Disney Store in Salt Lake, Walt Disney World in Florida, and most recently The Disneyland Resort in California. So I guess you can say I've lived and worked from one coast to the other. Disneyland being my favorite though.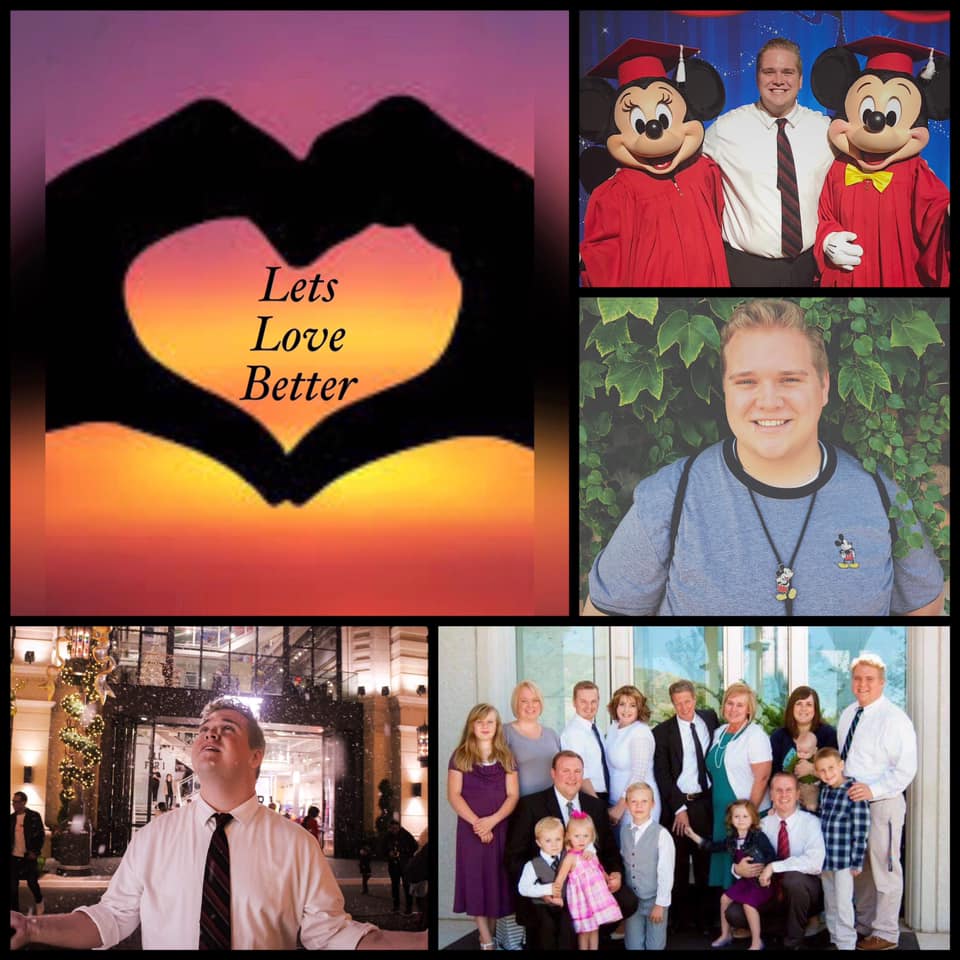 I also love Musical Theatre and performing. Theatre is my life, and the stage is my happy place. I'll beat you at show tune karaoke any day 😉.
I absolutely love being in nature. Camping, hiking, kayaking, fishing, swimming, going on adventures. If it's outdoors, I'll love it. I enjoy photography and filming video and vlogs.

I came out to my parents, siblings, and some close friends in October of 2017. I gave myself a year to let that sink in for my parents as well as myself, before coming out publicly in October of 2018. It's been quite the journey, but I wouldn't trade it for the world.

Honestly, coming out has been the best thing for me. I understand myself better, and I feel like I've gained a new and better relationship with my Heavenly Father. My only regret was not coming out sooner.
Living in a tight religious household was tough when you had same sex feelings. I found myself very much confused, and unwanted by our Heavenly Father. Most of my teenage years, I pretend everything was okay and if any feelings popped up about other guys, I'd simply push them down.

Like I said, my family was really religious, and I didn't want to be the one to change that. I remember one day when I was in the tenth grade, a seminary teacher told us that the devil was working hard to destroy the family. Doing everything he and the adversary could do in order to rip families apart. So this led me to believe that I was in the wrong, and I had to work harder in hopes that my family would stay the same and not be destroyed.
I absolutely loved the church, and still do! I enjoyed going. I enjoyed learning. It made me happy and it was my comfort zone. My high school years passed by and it eventually became time for me to serve a mission. I prayed hard about this one. First, I'm a home body, and the thought of leaving home for two years, scared the crap out of me. But second, I didn't feel comfortable going on a mission, preaching, testifying, and baptizing with the priesthood that I didn't feel worthy of having. So I never went.
I stayed true to the church, again still loving it, and eventually I was called to be a primary teacher. I LOVED it. Teaching the kids was such a blessing and testimony builder. I did that for three years, and then was called to work in the nursery with the little ones. Also loved that! Haha.. It was around this time when I came out to my parents.

I came out to my Mom first. It took her a minute to finally comprehend it. She cried, which made me sad. I didn't want her to be sad. I hated watching her heart break as her dreams for me slowly fade away. They weren't just her dreams for me though, they were my dreams for myself. You know… getting married in the temple. Having kids. (Believe it or not, I had all my kids names picked out already 😂) And to watch that all disappear, broke my heart. This life that I look forward all my life was now gone. Well so I thought.

I think these dreams of mine and my love for the church is what kept me in the closet for so long. I just didn't know how I could possibly live the life I wanted and not have the church in it. I wanted both in my life. After long nights of talking with Father in Heaven, I eventually came to terms that my Father in Heaven loves me unconditionally and he always will. He knows me, and he knows my heart. He wants me to be happy. And me being gay wasn't going to exclude any love, blessings, or happiness from him. ❤️
I still hold the church very close to my heart. It still is very much a part of me. I also came to realize that I will marry someone one day, and eventually he and I can have kids of our own. Kids in which I hope to raise with the same standards and morals I learned growing up.

Since coming out, my parents and family have been amazing. Obviously there's been some transitioning moments, as expected, but it's all turned out great. They've been more accepting then I ever imagined. My mom and siblings tell me often that the can't wait until I bring a nice guy home. 😍
Now, I just wish to help. I want to help all those who have been in my shoes. Those who are suffering in silence. I hope to help the LGBT teens and young adults of Utah know that it's okay for them to be themselves. It's okay to be you. I want them to know they are loved and accepted by so many. Finding a boyfriend would be nice too. 😉
Want to read another story like this one?
CLICK HERE for more!
This In My Own Words story is a contribution from Let's Love Better, a Facebook group dedicated to helping people learn to better share love, while fostering an atmosphere of understanding. When we know better, we do better.