I am encouraged and touched as I see more dialogue among the straight and LGBTQ communities. My hope is that all parties will dialogue with a mind open to inspiration and a willingness to expand as we move forward. I believe these efforts will result in blessing the lives of countless people.
I am in my mid-60's and during most of my life, things were very different. As I grew up, homosexuality was a topic that was usually avoided as it made people uncomfortable. What little I heard was from LDS church leaders. It was presented as a sin and something where people had a choice in the matter. I have always idolized muscular men since I was a small boy. That attraction sexualized as I grew older. I believed the church leaders and was not too concerned and chose not to be gay. I assumed that my attraction to women would eventually materialize.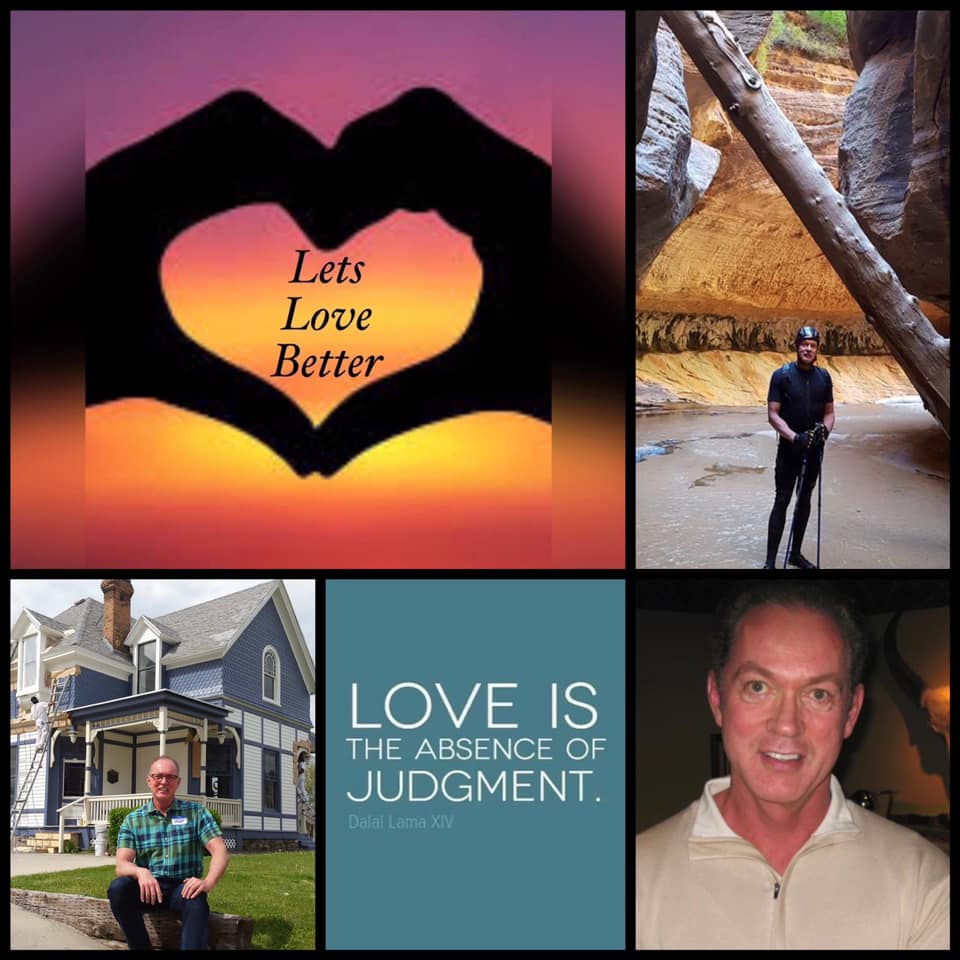 When I returned from serving a mission, I realized those attractions would never materialize. It resulted in me feeling broken and sinful. In my late twenties I was disfellowshipped from the church. As part of my repentance efforts, I overcompensated in my efforts to be 'good enough'. It resulted in my immune system 'crashing' at the age of 30. I have struggled with poor health ever since then; with very few answers from the medical community. This forced me to step back and take a closer look at my situation – particularly the concept of my self-worth. Up to this point, I had connected it with what I did – my actions.
It took many years to internalize the concept that my worth is intrinsic – my roots are from heavenly parentage. I met with 3 therapists over the next 5 years. They were helpful to a degree, but all had the same perspective – that my sexual identity was sinful and should not be expressed. It left me feeling empty and alone, yet a little more self-reliant. I knew a number of gay and bi-sexual people; however, their interests were different from mine, so we didn't interact much. I found that the variety of personalities in the LGBTQ community were just are varied as those found within the straight community.
When I was reinstated into the church (in my late-20's) my home teacher was called to serve as the bishop in our ward. I was surprised when he asked me to serve with him. Since that time, most of my church service has been spent serving in several bishoprics, stake presidencies, and elders/high priest leaderships. It has been a tremendous blessing to rub shoulders with men who knew I was gay and loved and accepted me as a dear brother and trusted member of the group; and seemed to appreciate the perspective/talents I brought to the group. It took a long time for that acceptance to sink in.
It was when I was in my late 30's that my only brother contracted AIDS and died. It was a terrible loss to my family – particularly my parents. I still have a hole in my soul from that loss and look forward to a wonderful reunion in the spirt world. Part of my drive seems to live the life he was deprived of.
I gradually progressed through different stages in my healing, however it wasn't until I was 60 that I finally reached a point where I fully loved myself and liked being gay. I no longer look at my sexuality as a defect or a struggle. I am comfortable with the idea of being gay in the next life and can't help but wonder if it was part of who I was before this earth life. I have complete confidence in a God who knows me better than I know myself; and put myself in His hands for whatever the future holds. That is one of the reasons that one of my main desires is to feel close to God and know His will for me and then go out and do it!
This most recent step in my transformation took place with my personal trainer. He was certifying to be a holistic coach and asked if I would be one of his case studies. That therapy ended up going for nearly 3 years and had a greater impact on both of us than we could have imagined. This final breakthrough started near the beginning of this therapy. We were discussing topics that were directly connected with my sexuality. I admire and love this man deeply and totally broke down when I confessed that I was gay. The incredible love and loyalty that he responded with cut through the rest of the psychological garbage and was a major breakthrough in my healing. Because of this experience there is a special bond between the two of us.
I live in an imperfect, mortal world and have learned to live with the 'gray'. This includes all aspects of life – including organized religion. I have friends who prefer to live in a more black & white environment; who have left the church and question why I haven't done the same. I tell them that I'm open and if something better comes along – I'll take it; in the meantime, I plan to stay where I am. Leaving the church is like throwing the baby out with the bathwater. There are many good things (and spiritual confirmations) for me to leave at this point. I feel like most church members do not have an all-or-nothing mentality when comes to their testimonies and, like me, they too walk by faith. I take comfort in the 9th article of faith, particularly the ending, ". . . and we believe that (God) will yet reveal many great and important things pertaining to the Kingdom of God." It is my belief that it is not good for man to be alone, and if I was younger, and was to meet the right person, I would marry. I would continue practicing my religion – however in a limited capacity.
Since coming to terms with my sexuality several years ago, people have commented about the change in me. I feel like I have gradually been transformed – not so much that I am a different person, but that the person I have always been has come more into fruition. I am more comfortable and open with myself and more interested and involved with others; rather than being too focused on myself. It has just been another confirmation to me that being gay is part of my makeup and affects so many other components that make me, me. An example: I am a gentle man. I have always considered that as a weakness in my character and something I needed to correct. Now I look at this as an asset. I am better able to connect with others who open up to me (i.e., in my experience as a hospice volunteer). This perspective seems to have improved my being more in tune with the Spirit. This helps me as I strive to seek what God would have me do. This mortal journey is an amazing gift. Don't waste it by putting your light under a bushel, but let your light shine and helping others to do the same.
Want to read another story like this one?
CLICK HERE for more!
This In My Own Words story is a contribution from Let's Love Better, a Facebook group dedicated to helping people learn to better share love, while fostering an atmosphere of understanding. When we know better, we do better.