I'm an asexual/biromantic cisgender woman with a heavy preference for other women (did you catch all that!?). My partner is gender fluid and is trans masculine. We've been together for almost seven years now and living together for the past 4 years.
I want to share my coming out story and possibly get some advice from anyone willing to read through the incoming mess:
I had a faith crisis with the Church and a sexuality crisis with myself back in 2011. At the time, I was still living at home with my parents in which I was forced out of the closet. I don't really want to get into details about that, but long story short, I retreated back in under the guise of "it was a phase" because I wasn't anywhere near ready to confront my own sexuality, let alone share it with my family.
My parents are pretty hardcore, TBMs. They are as LDS as the come. They've made no bones in the past about not agreeing with LGBT+ rights. Coming out to them has been the scourge of many a nightmare since my early teens. My mom in particular had some very harsh things to say the first time around, including "It's not like you were molested or anything," which still hurt to this day.
My family is the picture perfect example of what Mormonism looks like. They talk the talk, they walk the walk, they do everything the prophet tells them, even if it contradicts what their own thoughts or feelings tell them. Their focus is so tuned to living in the highest degree of the Celestial Kingdom that they have forgotten that we still exist here on earth.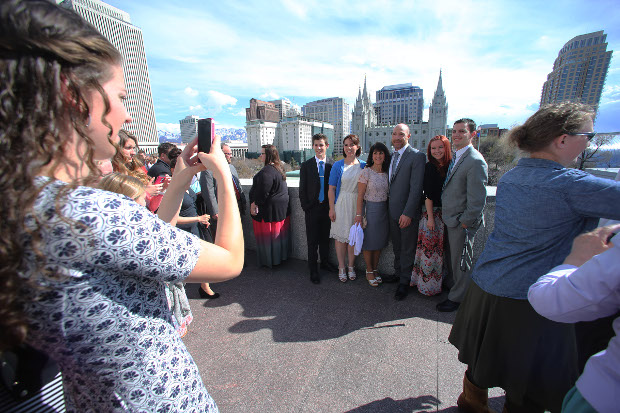 Still, retreating back to the closet is something I wish I'd never done back then. I'm on the cusp of entering my 30s now, and knowing I've spent the majority of my youth cowering inside is something that deeply saddens me.
Waiting this long has also meant all but putting my life on hold since a lot of what I want for my future is dependent on being open about my sexuality and my relationship. My partner has been a paragon of love and patience over the years as I've struggled with it. I have had chance after chance to get it over with since I left home and passed them all up until today.
I was visiting my family and the topic of conversation with my mother found its way to the time I was forced out when I was 19. I tried desperately to steer the conversation to literally anything else, but my mom persisted until finally it came down to yet another opportunity to tell her the truth. She wanted to rehash a conversation that she started when I was 19! I was 19 and she forced me to come out when I still trying to understand my own sexuality.
Now, all these years later, I am at their home again and I am being confronted by her again. I literally felt my heart stop as I made a split second decision to come out right then and there—again and with the fullness of my truth. As soon as I did, my dad and two brothers had migrated into our vicinity, so I asked if we could continue the conversation on the back porch.
It's silly, but it felt like a movie while we talked and I got emotional, especially since it started to rain on us. Mom wasn't particularly kind as I tried to convey my feelings to her; both those I felt now and those I felt the first time I had been confronted.
She didn't seem too concerned about any of that. She made it all about her and my dad and the Celestial Kingdom, and said that I had hurt her because I lied about it so many times. When I pointed out that neither of them exactly made me feel like I could talk with them about it as a kid, she claimed it didn't matter. I still lied and it was wrong. Never mind that the first time, she had lied to me for years about how she initially found out about my sexuality because she didn't want to admit to me that she had been going through a notebook of mine and found some notes I'd passed with my cousin in church.
I don't mean to brag, but I was a pretty good Mormon kid back then. I never partied or did drugs or really anything else I wasn't supposed to. I always checked in when I wasn't home, and I always let my parents know where I was going when I left the house, even up until shortly before I moved out when I was 23.
Mom equalized my sexuality to doing drugs. Said that was why she went through my things and claimed she had every right to do it. When I told her that what I was doing wasn't nearly on even the same level as that, she disagreed (and between you and me, I think she probably would have taken it better if she found out I was an addict or something). Apparently lying about how she learned about my sexuality was all leveled out because of my hiding it. And never mind that I never got an apology for what she did.
We discussed my current living arrangements and what my life has looked like over the past four years. A few other things came up, such as whether or not my relationship was physical, to which I felt was none of her business. I informed her that I am uncomfortable with sex regardless of my potential partner's gender, and that opened up a whole other can of worms because she says that being ace (asexual) is also "unnatural" (I just can't win here, can I?). This, however, was definitely not a new topic of conversation for us. I've expressed multiple times in the past that sex isn't my cup of tea.
I've gone on long enough about what we talked about, so TL;DR: My mom essentially pulled a "how do you know you don't like it if you haven't tried it?" in regards to my feelings towards men and I was left feeling just as unresolved after coming out as I did before.
When we went back inside, we stood in the laundry room and I cried while I broke the news to my dad. He took it significantly better than my mom, though he informed me that he also didn't agree with it. I told him that was fine, that I just wanted him to know because I was sick of having if hanging over me.
My mom started asking more questions. I don't think she is capable of understanding that there doesn't need to be a reason for my being non-heterosexual. I wasn't sexually abused or assaulted as a kid. I wasn't physically abused as a kid, either (sorry, Spencer W. Kimball). There WERE a lot of emotional issues, but that's something for another day and in no way impacted my taste or lack thereof in romantic partners.
The more my mom pressed, the more frustrated I became. And finally, dad really surprised me because he cut her off and told her "That's enough. We've taken a big step today, and it's enough for one day." Mom went quiet after that and stopped with the questions.
I knew they'd known for ages that I'm not straight, it was just gathering the nerve to tell them so for the technically second time. It went about as well as I could have expected. If I'm being honest, I anticipated it to go a lot worse. I'm still trying to convince myself that this wasn't one of my nightmares that I've been having since I was 16.
We went about the evening like normal after that, though I felt like Mom was a little standoffish of me. I wish coming out was the hard part, but the things I've feared most are what I have to look forward to now. This is where I need advice, so I can be somewhat prepared for what's to come. I have no idea where to go from here or what to say whenever my parents decide to come at me with questions or whatever they are going to drum up from relief society, elders quorum or from the Church. I don't know what even to expect next. And I'm terrified for my relationship with them in the future.
Naturally, my partner is not exactly welcome for Thanksgiving/Christmas dinner. This is fine for now, since we normally celebrate with our respective families, but we have started thinking about the long run for our relationship. We have discussed marriage and agree it's something we both would like in the future. Same with children, if at all possible.
My family will definitely not attend a wedding if and whenever we have one. I don't expect them to. But if my partner becomes my spouse and eventually my co-parent, I don't know how we're going to handle things like birthdays and holidays. I worry about things that may be said to our future children.
There's also another problem I've run into, now that it's been a couple of days since I last talked to my parents. I'm feeling extremely jaded in regards of my sexuality and have a nagging feeling of regret in the back of my head. I'm also finding it a little hard to go about as normal with my partner. I've felt hesitant to show affection and be shown affection. I can't quite explain, but I've really just wanted to isolate myself for the past day or so. Is this normal? Has this happened to anyone else? And if it is, how can I shake off the feeling?
Now that I have had a little time to process this, I'm not feeling as good about it as I was when I came home from my parents' house. There's something about telling them that's made it all seem less real, and I think it should be the other way around. I'm honestly terrified of what will happen now. Any advice would be appreciated, but I would really like to hear from other folks who came out as late as I have.
We want to hear your story–here's how to share it with us!

Each Sunday we feature a new Coming Out Story on the Latter Gay Stories blog. Coming out is an important process that is different for everyone; some experiences are difficult; while others are heart-warming and inspiring. Coming out is rarely easy–but your story will help others draw inspiration from your own experience. We rely on weekly submissions to keep the Coming Out Stories alive and invite you to share your story now.